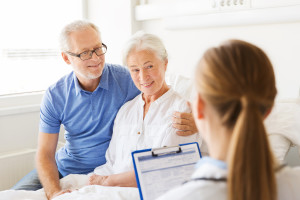 Here in Florida, because of our wonderful weather and welcoming social climate, we have become a destination hot spot for senior retirees. Because of this we have also attracted some of the worlds most gifted and caring Geriatricians.
What's the difference between a General Practitioner and a Geriatrician?
Because of the vast nature of the human body, doctors choose areas of specialty on which to focus. There is simply so much to know that encompassing every area of study within one single lifetime isn't possible.
A geriatric physician is a general practice medical doctor who has chosen to focus their study on the diagnosis, treatment, and prevention of disease and disability in older adults. They are specially trained in how to work with the aging process.
When it comes to aging, many geriatric doctors tend to take more of a preventative holistic approach rather than just treating current symptomatic conditions, they come up with a more proactive healthy aging plan including supplementation, diet plans, exercise recommendations and even alternative healing modalities may be recommended. The patient as looked at as a whole, including lifestyle, activity level, family and social support structure and special considerations are given to daily living.
Areas that geriatricians may treat include the following:
Alzheimer's disease
Cancer
Dementia
Heart disease
Diabetes
Osteoporosis
Parkinson's disease
Sleep disorders
Stroke
Medication side effects
Pain
Falls
Memory Loss
Incontinence
With advances in technology, medicine, and what we know about the human body, people are living longer than ever before. Health is our number one asset. Preventative maintenance is key to aging gracefully, and having a doctor that you trust and can rely on is vital as we age.
Please visit www.ipalc.org to search for the most qualified Geriatric Practitioners in Lee County.
Share on Facebook