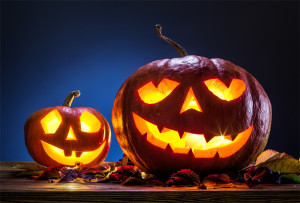 Halloween is only one week away! Kids are excited and getting their costumes ready for trick-or-treating around the neighborhood. During this fun event, it is important to keep your little ones safe while they are out foraging for candy.
Here are some ways to keep your little ones safe during trick-or-treat:
When you are buying or making your child's costume, make sure that it is not dragging on the ground. He can trip while walking and running from house to house.
Paint your child's face instead of using a mask. Masks can get in the way and hamper your child's view, making it a hazard.
Add reflective pieces to the costume or, if possible, dress your child in light colors.
Tell them not to talk to anyone. Make sure they are aware of "stranger danger".
Have your child wear or carry a glow stick or a flashlight so that vehicles can see them when the sun goes down.
Teach your child to look both ways before crossing the street. If there are street signs or lights to obey them and cross in the crosswalk.
Slow down while driving in residential areas. Be on the lookout for kids to pop out of nowhere. They are excited! It's Halloween and they are on the hunt for lots of candy! They are not thinking of cars and safety.
Older kids might have cell phones. Make sure that they are paying attention to where they are walking and not staring down at their phones.
Younger children should be accompanied by a parent or an older sibling to take them from house to house. If kids are old enough to go out on their own, then keep them to the streets that they know and houses that are close by.
Halloween is a fun holiday that many children look forward to participating in every year. Getting dressed up in costumes as their favorite characters and getting candy makes for a fun night. Have fun and be safe!
IPALC.org has a searchable index of doctors in the Lee county area of southwest Florida. Search for a doctor today.
Share on Facebook