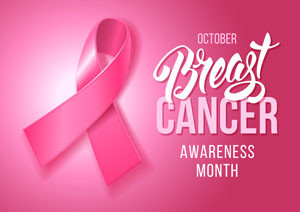 Research indicates that one in eight women born today will have breast cancer at some point in their lives. That is a lot of moms, daughters, aunts, grandmas, and friends that will battle this aggressive type of cancer. The month of October is a time to recognize and help fund the initiative to fight this disease.
During the month of October, you will find many activities and products that are dedicated to research for a cure. This is not just a battle for women, husbands, sons, brothers, grandpas, uncles, and friends all rally behind this cause to find a cure.  Here are some of the activities/organizations that have joined the fight against breast cancer:
American Cancer Society: from research to education to awareness to providing services to those who have breast cancer, this organization has a strong presence in the fight against breast cancer.
The National Breast Cancer Foundation: their mission is to lend support and help those who are affected by breast cancer. They have a wealth of knowledge about early detection and education. They also help raise funds for research.
The National Football League: their theme of "A Crucial Catch: Screening Saves Lives" is a play on both football and also "catching" the disease early by getting screened. They encourage people to get screened and to donate to the American Cancer Society. In the month of October, all NFL players, coaches will wear some pink and game balls will be pink. This is to show the awareness to all who watch their football games.
Susan G. Komen "Race for the Cure" was organized back in 1983 to bring awareness to the impact breast cancer has on families. It is now a national event that can be found in many, many cities nationwide. Participants can choose to run in the 10K or the 5K run/walk. This fun event brings family, friends, and companies out to run as teams. Money is raised for breast cancer research.
These are just a few of the many organizations that support the fight against breast cancer. If you are searching for a doctor in the Lee county area of southwest Florida, go to IPALC.org and conduct a search.
Share on Facebook